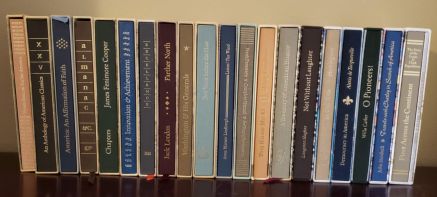 The West Virginia Pulp and Paper Company was founded in Piedmont, West Virginia in 1889 and was known for its brilliant white paper. After WWII, the company turned to the production of packaging materials and a line of high-quality printing papers. Starting in 1958, to advertise the quality of its paper, Westvaco started producing a Christmas annual of important American classic works. Printed in a limited edition these volumes were presented by Westvaco salesmen to their best customers as a Christmas gift. Each volume was designed solely by Westvaco employees. These volumes were issued yearly until 2008, by which time Westvaco had merged with the Mead Paper company to become Mead-Westvaco, which still exists today.
In the 25th anniversary volume in 1982, John C. Callihan explained his motivation for this series: "We sought to bring back from America's rich repertoire of the printed work some of the most favored classics written by Americans. We also wanted to publish and preserve some lesser-known volumes which are part of our heritage …. In retrospect, publishing the series was a natural thing for Westvaco to do. We are a major manufacturer of fine quality printing papers. We are close to the commercial book publishing field. What would be more logical than to publish a book each year to present to our friends during the holiday season?"
Each volume is an octavo (9 ½" by 6") in a decorated slipcase with decorated endpapers. All are illustrated and contain an original forward. All say limited edition but the actual limitation is never stated.