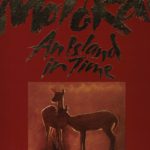 Cooke, Richard A., Moloka'l: An Island in Time, [Beyond Words Publishing Company], [Honolulu],[1984]. [1-5]6-196], 11 x 12 ". Rust blind embossed cloth over boards.
Fine in a fine dust jacket and a very good slipcase with a 2 ½" separation on a bottom edge.   First edition, "Author's Edition" with a bookplate signed by the Author on the front free end page.  
A collection of color photography and text on the Hawaiian island of Moloka'l.  Cooke is a professional photographer of over 40 years, working mostly as a freelancer for The National Geographic Society.     He spend his child on Moloka'l and returned to live there when he retired.    Laid into the book are 6 11×12" color prints of Cooke's photograph and an unredeemed certificate from The Earthsong Society granting the right to have a tree planted on Moloka'l in the bearer's name.
[$70]