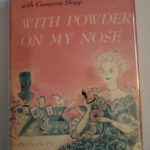 Burke, Billie, with Cameron Shipp, With Powder on My Nose, Coward-McCann, Inc.,  New York, [1959], 249 pages
A near fine copy in an unclipped, near fine dust jacket (one small tear on top front edge), green cloth, 8"x5 ¼".   First Edition, presentation on half title, signed by Burke and dated the year of publication.
Burke was Hollywood royalty.   She acted in silent movies starting in 1915 and appeared in movies and plays, radio and television until 1960.   Her most famous role was Glinda the Good Witch of the North in The Wizard of Oz (1939).   She was married to producer Florenz Ziegfeld  1914 until his death in 1932.
The present work is the second of two autobiographical works she co-authored with Cameron Shipp.
[$185]